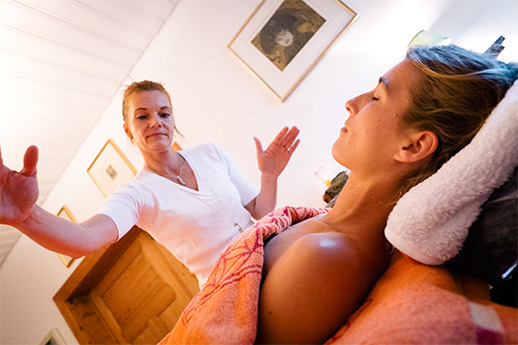 Everyday stress and tension can become evident in the face. Beauty is more than supplying the skin with care and nutrients.
This face, neck and décolleté treatment provides your skin with the loving attention it deserves. Intensely relaxing, this energised facial treatment incorporates lots of pleasant massage. Reitinger Cosmetics, the natural beauty range used within this facial, is an organic skin care with ingredients sourced from sustainable farming. Addressing individual skin needs, a Reitinger facial treatment helps improve the overall condition of the skin. Added energetic treatment rituals such as massage with rose quartz or treatment focusing on the aura and chakras, makes this facial truly harmonising.
An energized cosmetic treatment with Reitinger Cosmetics harmonises your aura and improves the quality of the skin!
Energised cosmetic treatment: 90 min. / 75,-€